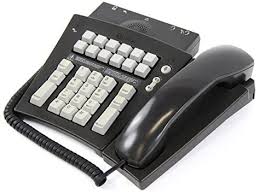 The Mitel 5550 IP Console is a PC-based attendant console and administration application for the Mitel Communications Director (MCD). It combines an intuitive PC interface and a specialized telephony keypad for easy dialing and quick access to call processing and telephony features. With teleworker support, the corporate answering point is flexible and mobile. Attendants can now work from anywhere, at anytime.
FEATURES
The Mitel 5550 IP Console Transfer Assistant allows you to complete 90% of calls with the dynamic historical driven search, attendants can quickly lookup past transfers in difficult situations.
Multi-Tenanting means you can share a single answer point and save on answer point costs, teleworker support allows attendants to work off site, reducing office space costs.
Additional Data Fields: Provide more information to attendants, with color support.
Hot Desk Login and Call Forward Status provided to attendants Presence, Email, and Instant Messaging and is integrated with Office Communications Server.
With Busy Lamp Field (BLF) Monitoring, attendants see the phone status at a glance
Multiple BLF Lists and Tile-Based BLF View gices Multi-Tenanting BLF list support, while the Incoming Calls List provides visual indication of all incoming calls, prioritizes calls, and customizes greetings based on calling line information.
The Direct Station Select (DSS) function enables attendants to pick up ringing extensions and attendants have additional information to handle calls more efficiently with the Calls on Hold Comments Key.
With screen-based call handling, simply point-and-click.
Twelve Programmable Keys provide easy access to the most commonly used attendant features and services while the On-Screen Scratch Pad allows attendants to take quick notes and messages while handling calls.
The On-Screen Bulletin Board feature displays system wide information across the complete answer point.
Quickly retrieve a call that was transferred to the wrong extension.
Answer calls based on longest time waiting or origin with the Call Answering Priority feature.
Incoming calls are routed to other consoles, reducing wait times using the Call Waiting Threshold Capability.
The Mitel 5550 IP Console Comprehensive Hospitality Console Feature Set includes Dual Handset / Headset Jacksand used for monitoring and training new attendants.
Languages support includes English, French (North American and European), Spanish (North American and European), German, Dutch, Italian, Portuguese (European and Brazilian), Swedish, and Simplified Chinese.
INCLUDES
Mitel 5550 IP Console Model 50003372 or 50003071
New RJ-45 Cat 5 Network Cable